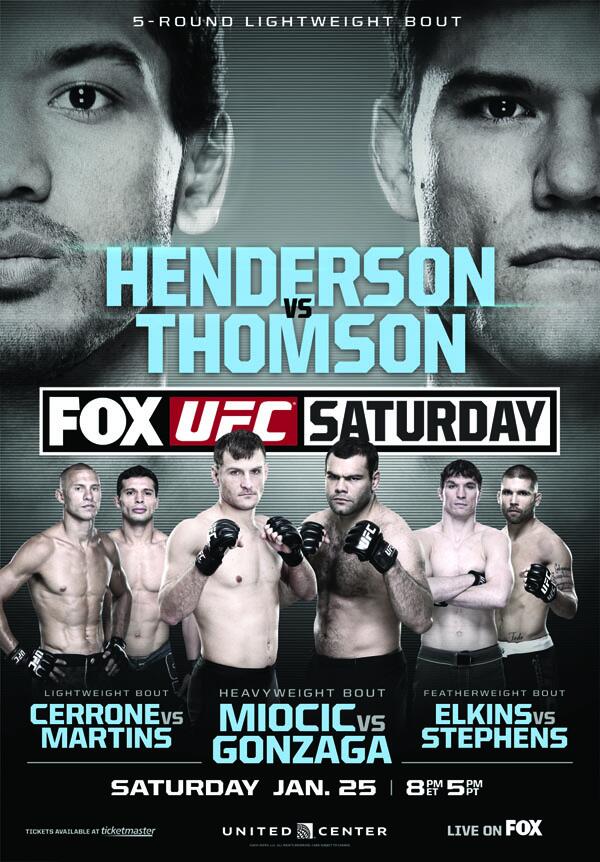 Nog vijftig dagen te gaan voor UFC on FOX 10 zal plaatsvinden, maar de main card is al vastgesteld door UFC Officials. Wat opvalt aan deze card is dat deze in vergelijking met de andere cards veel zwakker is dan de anderen. Hoewel alle acht vechters van UFC on FOX 9 in de huidige UFC Rankings staan, zijn dat er voor de tiende editie van de card op 'big FOX' maar vijf.
De main event was al eerder bekend gemaakt in Josh Thomson vs. Benson Henderson. De voormalig kampioen en voormalig number 1 contender zullen het tegen elkaar opnemen doordat kampioen Anthony Pettis voorlopig buiten de roulatie is. Thomson kan met een overwinning alsnog zijn titelgevecht krijgen, terwijl Henderson ook een belangrijke gooi kan doen naar een mogelijk titelgevecht tegen een mogelijke andere kampioen dan "Showtime". "The Punk" is de huidige nummer 4 op de UFC Lightweight Rankings, terwijl Henderson de huidige nummer 1 is op dezelfde lijst én de nummer 10 op de UFC Pound-for-pound Rankings.
De co-main event zal gaan tussen Gabriel Gonzaga en Stipe Miocic. De Braziliaan won vijf van zijn laatste zes gevechten met een verliespartij tegen Travis Browne. Miocic is de huidige nummer 9 op de UFC Heavyweight Rankings en zal voor het eerst in actie komen sinds UFC 161 toen hij zijn grootste overwinning in zijn loopbaan boekte tegen Roy Nelson via unanimous decision. Geen onbelangrijk gevecht, maar een duidelijk mindere co-main event dan Urijah Faber vs. Michael MacDonald van UFC on FOX 9 of Daniel Cormier vs. Frank Mir van UFC on FOX 7. Vechtfans kunnen wel een voortijdig einde verwachten met deze twee zwaargewichten.
De overige twee gevechten op de main card gaan tussen Donald Cerrone vs. Adriano Martins en Jeremy Stephens vs. Darren Elkins. Cerrone zal proberen om alsnog een titelgevecht op lightweight te verdienen, ondanks drie verliespartijen in zeven van zijn laatste gevechten. Tegenstander Adriano Martins zal voor de tweede keer vechten in de UFC na zijn debuut op de undercard van UFC Fight Night 32. Toen versloeg hij Daron Cruickshank via submission. Darren Elkins en Jeremy Stephens vechten beide in de subtop van de UFC featherweight division. Elkins staat op plek nummer 10 in de UFC Featherweight Rankings met zes overwinningen in zeven gevechten op featherweight. Jeremy Stephens zal tegen Elkins voor de derde keer vechten op 145 pond na een overwinning op Estevan Payan en een keiharde knock-out binnen veertig seconden op Rony "Jason".
UFC on FOX 10 zal op 25 januari 2014 in Chicago plaatsvinden. De volledige card ziet er momenteel als volgt uit:
Main card:
Benson Henderson vs. Josh Thomson
Gabriel Gonzaga vs. Stipe Miocic
Donald Cerrone vs. Adriano Martins
Darren Elkins vs. Jeremy Stephens
Prelims:
Yves Jabouin vs. Eddie Wineland
Chico Camus vs. Yaotzin Meza
Adam Khaliev vs. Pascal Krauss
Ramiro Hernandez vs. Hugo Viana
Walt Harris vs. Nikita Krylov
Wat denken jullie? Is deze main card minder of vinden jullie dat wel meevallen?